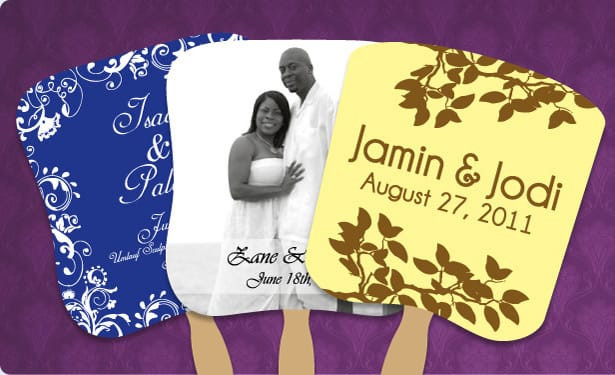 So you've set the date for your wedding. Congratulations! At HandFans4Less, we know how much fun planning your big day can be. We also know that planning can become pretty stressful at times, and we're here to help.
With so many details to take care of - the location, the flowers, the cake, the invitations, etc., etc., etc., - you could really use is one less thing to worry about, right? Let us offer a suggestion - custom hand fan wedding favors. If you're thinking about custom fans for your guests, here are a few tips and tricks to minimize your stress and maximize your joy of planning the occasion:
Step 1. Think About Your Design
Take a few moments on a day when you're not swamped with other wedding matters to sit down, relax, and think about how you want your fans to look. If you want to feature a picture of the two of you, the date, a favorite song, poem or Bible verse, we can take care of it. Just let us know.
Step 2. Order Early!
One great thing about custom hand fans is that you can order them very early in the wedding planning process. The wedding favors can be an easy, quick item to check off your list, and give yourself one less thing to worry about as time gets short.
If you order early, you'll have plenty of time to design your custom fans just the way you want them. We'll ship them to you in 14 days or less, and you have extra time to deal with more pressing issues.
Step 3. Contact Us and Let Us Help
If you're not certain what design you want on your custom fans, don't worry. We are happy to talk with prospective brides and grooms at any time! Call us toll free at (800) 848-0076, or email us at [email protected], and our talented graphic artists will help you create a custom fan design that will be the perfect memento of your special day. Best of all, we offer all artwork and revisions FREE! You tell us what you want and we'll work with you until it meets your standards, at no charge.
Step 4. Order Plenty
Especially if you're planning an outdoor wedding, be sure to order enough hand fans for all of your expected guests. And remember, fans make a terrific keepsake for friends and loved ones who can't attend the ceremony or reception. Order extras for them too!
Step 5, the MOST important one: HAVE FUN!

Your wedding is a time of joy, and all the aspects of planning it should be too. Feel free to play with different ideas for your custom hand fan wedding favors. Think of it as a way to express the love you feel for each other to your friends and family. There is no wrong way to do things, so let your creativity run free! Call or email HandFans4Less, and we'll be happy to help.