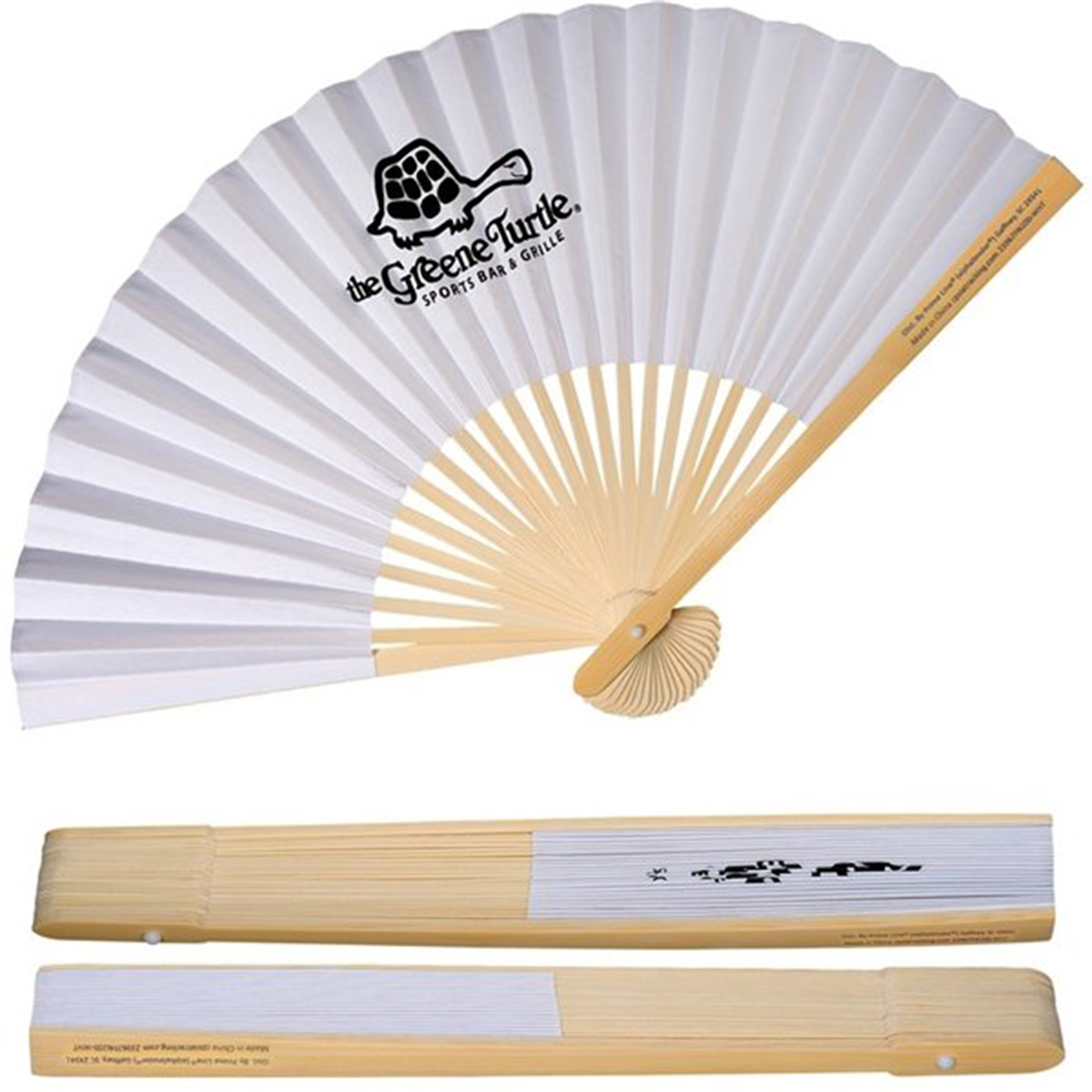 Folding hand fans are the original hand fan style. They are ideal for wedding favors, special occasions, just about any event you can name. These classic fans are suitable for any occasion that needs a touch of elegance.
Created in Asia, folding fans became a status symbol among European aristocracy in the Victorian era, Paper folding fans became a subtle, sophisticated way for women to effectively express their thoughts to male suitors.
Fan gestures such as resting a fan on the right cheek to indicate "yes," or the left cheek for "no," became widely understood. Similar low-key movements could indicate "we are being watched," "I am jealous," and even "kiss me."
Today, there's no need for such coded secrecy. Folding hand fans carry their own imprinted messages right on the fan itself. If you want to commemorate a wedding, graduation, or other special occasion, folding fans are an ideal keepsake for guests.
We offer a range of imprint colors and font styles for your message. Every fan is subject to our rigorous quality control, and we carefully inspect each one before we ship your order. And of course, we back our folding hand fans with our standard 100% Satisfaction Guarantee.
If you'd like to find out more about custom paper folding fans for your special day, call us toll free at 800-848-0076 , email us at [email protected], or fill out our no-obligation Free Quote form. We'll be happy to email you a free digital proof of your folding fan design. What are you waiting for? Contact us today to find out how much custom folding fans can add to your event!
Folding Hand Fan Pricing
Color processing on one side printed on heavy paper with eco-friendly bamboo ribbing digitally printed for exact detail.
Color(s) Available:

White

Approximate Size:

15" W x 9" H open

Imprint Area:

4" W x 2.5" H

Imprint Color(s):

Navy PMS 282 C, Reflex Blue C, Process Blue C, Carolina Blue/Baby Blue PMS 543 C, Red PMS 485 C, Teal PMS 327 C, Hunter Green PMS 357 C, Yellow PMS 102 C, Athletic Gold PMS 123 C, Orange PMS 021 C, Purple PMS 268 C, Magenta PMS 233, Pink PMS 183 C, Burgundy PMS 202 C, White C, Black C, Gray PMS Cool Gray 4 C, Brown PMS 168 C, Metallic Silver PMS 877 C, Metallic Gold PMS 847 C.

Set Up Charge:

$55.00 (1 color / 1 location)

Multi-Color Imprint:

Not Available

Production Time:

10 Business Days

Font Styles:

Apple Chancery, Arial, Avante Garde, Bookman, Bush Script, Comic Sans, Eurostyle, Frutiger, Futura, Garamond, Helvetica, Impact, Palatino, Times New Roman, Mistral, Optima.
| Quantity | 150 | 300 | 600 | 1200 | 2600 | +2,600 |
| --- | --- | --- | --- | --- | --- | --- |
| Stock (single 8"x8") | $2.40 | $2.33 | $2.27 | $2.22 | $2.14 | CALL |
Get started with your order!
Fill out our free quote request form for an estimate, or to start your order.
For over-the-phone service, call (800) 848-0076,
Or email [email protected] for more information.