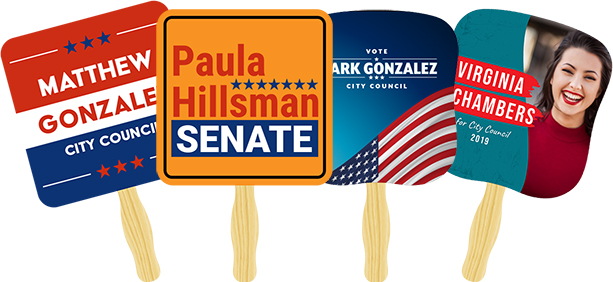 If you're a political candidate – or work for one – you know how hard it can be to increase name and visual recognition. Custom political fans are a great way to boost awareness in a crowd-friendly way.
When it comes to custom campaign fans to promote a candidate, HandFans4Less.com is your best, most dependable source. We'll help turn up your campaign volume with top quality fans at economical prices. Take your pick of stock or custom fan shapes, and we'll imprint your message. We offer styles to fit any campaign budget.
Not sure how fans can help? Think about this – political fans look great on TV. Distribute them at a rally, and you've got a large group of supporters to wave them. That creates a nearly irresistible image to go with media coverage of the event, whether for online, broadcast or print.
The great thing about campaign fans is that they offer a relatively large surface for your photo and slogans or message. They'll instantly boost your name recognition, just because they're such a visible token. No matter if you're running for class president or U.S. president, it's hard to beat hand fans as a way to get your name known.
Political fans give you room to express your views. Order double-sided fans and we can print your campaign photo on one side and your views on one or more issues on the other. We offer your choice of black and white or full color printing to fit your budget.
When it comes to campaign fans, HandFans4Less.com is your dependable, one-stop source. We offer top quality fans, the lowest prices you'll find anywhere and unbeatable customer service. If you're ready to put political fans to work for your campaign, fill out our no-obligation Free Quote form, email us at [email protected], or call us toll-free at 800-848-0076 . Let us show you how our custom hand fans can make the difference for your election!
Political Hand Fan Prices
Quantity
100
250
500
1000
2500
5000
10,000
Add $150.00 for Custom Die (1 time charge)
Stock (single 8" x 8")
$1.15
$0.50
$0.35
$0.305
$0.275
$0.245
$0.225
**Additional Color / Second Side
$0.42
$0.192
$0.128
$0.10
$0.05
$0.04
$0.04
Stock (sandwich 8" x 8")
$1.425
$0.95
$0.667
$0.575
$0.525
$0.458
$0.425
**Additional Color / Second Side
$0.42
$0.192
$0.128
$0.10
$0.05
$0.04
$0.04
Get started with your order!
Fill out our free quote request form for an estimate, or to start your order.
For over-the-phone service, call (800) 848-0076,
Or email [email protected] for more information.