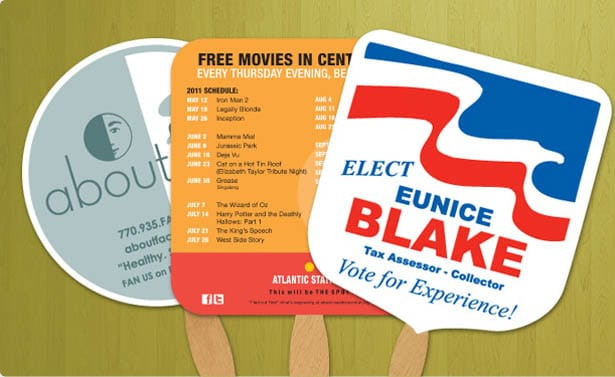 With the political season heating up for next year's election, it's no wonder prospective candidates are looking for ways to boost their name recognition. Custom political hand fans have long been a well-tested means of increasing awareness in a way that voters appreciate.
If you're thinking about running for office, it's a great idea to order custom hand fans for the campaign. At HandFans4Less, we've been creating political fans for 15 years. We're the one-stop source for all your political fan needs. We provide first rate fans at prices low enough that they can become a real, visible presence at your campaign stops and rallies.
Don't underestimate the value of that visibility. Hand fans offer a large enough space for slogans, photos and campaign issue statements, especially with two-sided fans that imprint a photo on one side and your campaign slogan or issues on the other. They're an easy way to get a great visual image out there. A rally with lots of fans waving in the crowd makes a statement that you have substantial support from voters.
Then there's the TV and social media factor. That waving sea of hand fans at your events is a natural magnet for cameras. Whether for Instagram, Twitter or the six o'clock news, political fans get your message out there for the world to see.
It's hard to beat the cost-effectiveness of political hand fans too. They're economical enough to distribute far and wide. At HandFans4Less, we offer a full range of both custom and stock fan sizes and your choice of black and white or color imprints to get you message out there.
If you're not certain what imprint or logo you want on your fans, talk to one of our talented artists. They have years of experience crafting designs for campaigns of all types. And of course we don't charge for art or revisions, so you can be sure your design will look just the way you want.
Want to find out more? Call us today, toll-free at 800-848-0076, or email us at [email protected] to find out how our custom political hand fans can help your campaign!